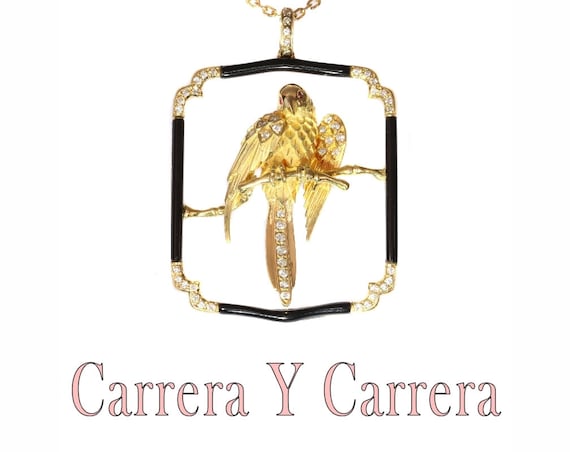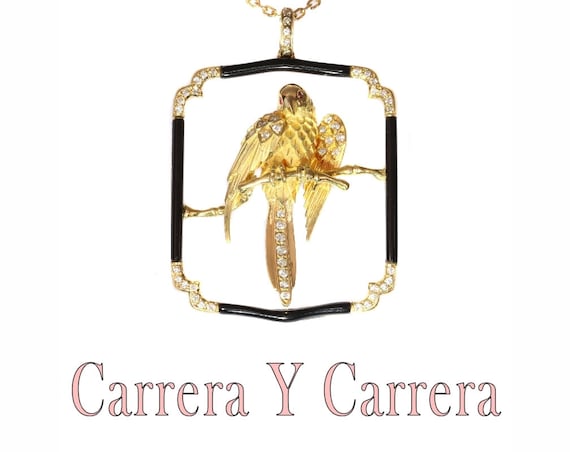 8,300.00 USD
Antique jewelry object group: pendant and chain
Condition: excellent condition
Do you wish for a 360° view of this unique jewel?
The videoclip shows this treasure's full splendour as no picture can.
Copy and paste the following link and it will direct you to the videoclip:
https://youtu.be/c25N-i_uPKU
Country of origin: Spain
Style: Vintage
Period: ca. 1975
Source of inspiration: Mother Nature
Theme: Parrots – Parrots have featured in human writings, story, art, humor, religion and music for thousands of years. From the Roman poet Ovid's "The Dead Parrot" to Monty Python's Dead Parrot Sketch millennia later, parrots have existed in the consciousness of many cultures. Recent books about parrots in human culture include Parrot Culture.
Material: 18K yellow gold
Extra information: Carrera y Carrera – In 1885 Saturio Esteban Carrera moved from Alcalá de Henares to Madrid and opened a small jewelry workshop in the area known as Barrio de las Letras. His son, José Esteban Carrera, after completing his lapidary studies in Paris in 1920, continued the jewelry tradition in Madrid, which in turn was carried on by his 4 nephews: José, Saturio, Pedro, and Andrés. In the 1970s, Saturio's great-grandsons Manuel Carrera and Juan José Carrera created the brand; the company has had several owners since then. In 1960, the company received the commission to make the wedding tiara of Queen Fabiola of Belgium for her royal wedding with King Baudouin of Belgium; after this achievement, the brand was positioned as one of the most recognizable luxury brands internationally. In 1979, Carrera y Carrera expanded to the United States, in 1994 to Russia, and in 2013 it opened its first boutique in China. In 1989, Queen Sofía of Spain was patroness of the presentation in the Royal Palace of Madrid of the sculptural piece "The Ark of Discovery of the Fifth Centennial" that later was exhibited in Madrid's City Hall. In 1992, the company's new facilities opened in San Agustín del Guadalix. In 2000, Miriam of Hungary, princess of Turnovo, joined the design team. Between 2002 and 2006 Lladró took over control of the company. Manuel Carrera, founder of the brand, once again created collections. Models Eugenia Silva, Almudena Fernández, and Alejandra Alonso have been the face of the jewelry house. Celebrities such as Jennifer Lopez, Katy Perry, Demi Moore, Lady GaGa, Olivia Wilde, Olivia Palermo, and Christina Hendricks also regularly wear the brand's designs.
Diamond(s): 56 brilliant cut diamonds with an estimated weight of ± 0.56ct. (colour and clarity: G/J, vs/si).
– All diamond weights, color grades and clarity are approximate since stones are not removed from their mounts to preserve the integrity of the setting.
Precious stones: Two rubies with an estimated weight of ± 0.02ct.
Four fancy cut onyx bars
– All color stone weights are approximate since stones are not removed from their mounts to preserve the integrity of the setting.
Birthstones: Diamond is the birthstone (or month stone) for April, ruby for July and onyx for July.
Brand: Carrera Y Carrera
Signature: Carrera Y Carrera
Hallmarks: Illegible remains and "750" indicating 18K gold
Dimensions: pendant 3,30 cm (1,30 inch) x 4,65 cm (1,83 inch), length necklace 40,00 cm (15,75 inch)
Weight: 15,00 gram (9,64 dwt)
Reference Nº: 18233-0099
– Copyright photography: Adin, fine antique jewelry
– The jewelry on our pictures is NOT Photoshopped
– Comes with certificate