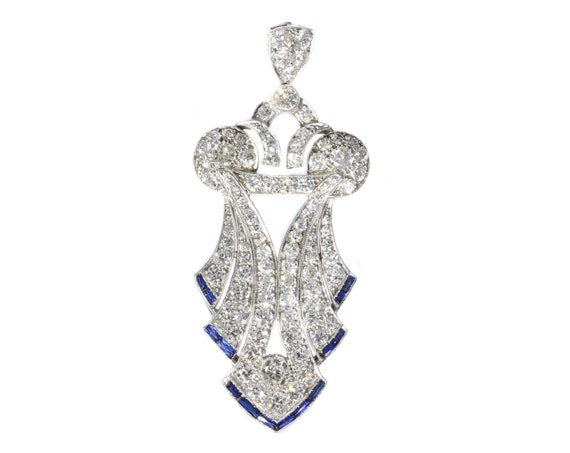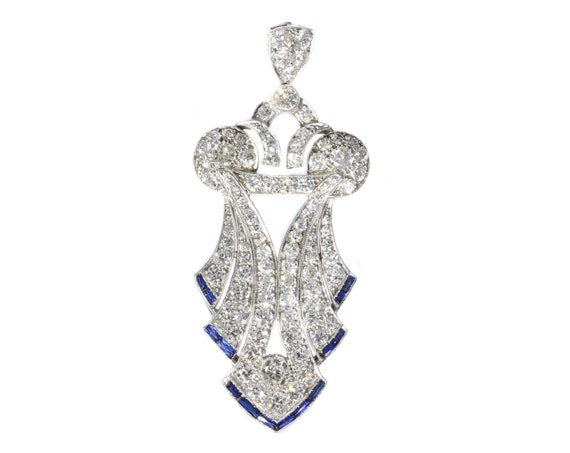 20,000.00 USD
Antique jewelry object group: pendant
Condition: good condition
Country of origin: Although it does not carry any legible control marks we believe this to be of Belgian origin.
Style: Art Deco
Style specifics: Abstract motives and geometrical forms are quite typical for the Art Deco period. Art Deco moved away from the soft pastels and organic forms of its style predecessor, Art Nouveau, and embraced influences from many different styles and movements of the early 20th century, including Neoclassical, Constructivism, Cubism, Modernism, and Futurism. Its popularity peaked in Europe during the Roaring Twenties and continued strongly in the United States through the 1930s. Although many design movements have political or philosophical roots or intentions, Art Deco was purely decorative.
Period: ca. 1920
Material: platinum
Diamond(s): 70 old European cut diamonds with an estimated weight of ± 5.01ct.
28 single brilliant cut diamonds (also called 8/8) with an estimated weight of ± 0.56ct.
– Total diamond count: 98 pcs.
– Total diamond weight: approx. 5.57 crt. with an average colour and clarity: H/J, vs/i.
– All diamond weights, color grades and clarity are approximate since stones are not removed from their mounts to preserve the integrity of the setting.
Precious stones: 14 baguette cut sapphires (lab produced) (also called verneuil sapphire). The fact that these stones are lab produced has no influence on the value of this jewel. Natural sapphires and lab produced sapphires were both used in this era, rather more for their effect than for their intrinsic value.
Birthstones: Diamond is the birthstone (or month stone) for April and sapphire for September.
Hallmarks: No trace.
Dimensions: 2,60 cm (1,02 inch) x 6,07 cm (2,39 inch)
Weight: 12,20 gram (7,84 dwt)
Reference Nº: 18276-0099
– Copyright photography: Adin, fine antique jewelry
– The jewelry on our pictures is NOT Photoshopped
– Comes with certificate