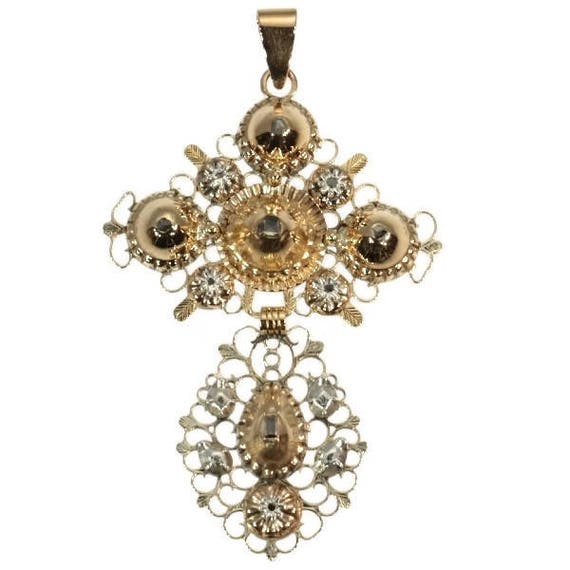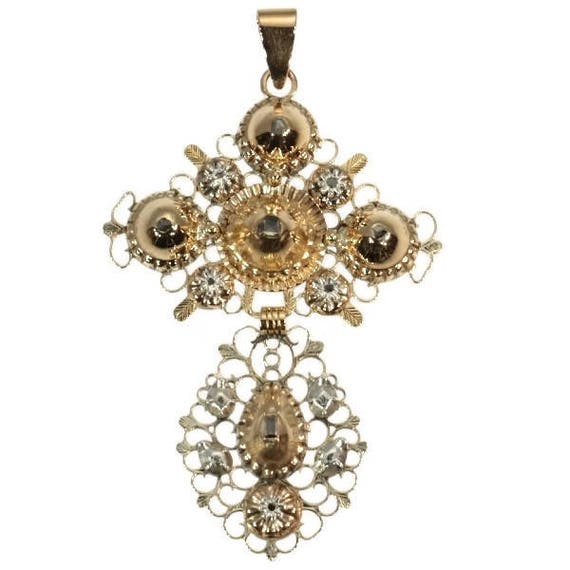 1,700.00 USD
This early Victorian 18K yellow gold pendant is brimming with refined filigree twirls, which guide you through a miniature garden arrangement of leaflets alongside gold and silver flowers with a total of 14 table rose cut diamonds set on foil. The overall view of this twofold pendant resembles a Latin cross, which would be the lower part of a typical Belgian adornment called a pendant "à la Jeanette". Everything about this early 19th century jewel with even older diamonds states heritage and romance.
Country of origin: Belgium
Style: Victorian – Experts divide the reign of Queen Victoria, also called The Victorian era (1837 – 1901) in to three periods of about twenty years each; The Romantic Victorian Period (1837 – 1860), The Grand Victorian Period (1860 – 1880), and the Late or Aesthetic Victorian Period (1880 – 1901). We consider this to be of the Romantic Victorian Period.
Source of inspiration and Theme: Christianity – The cross is one of the most ancient human symbols, and is used by many religions, such as Christianity. It is frequently a representation of the division of the world into four elements (or cardinal points), or alternately as the union of the concepts of divinity, the vertical line, and the world, the horizontal line.
Period: ca. 1840
Condition: very good condition
Material: 18 karat yellow gold
Hallmarks: The Belgian control mark for 18K gold representing a horse's head that was in use in Belgium between 1832 and 1869.
Diamonds: Two table cut rose cut diamonds and twelve senailles. A senaille is a simplified rose cut diamond, a small diamond chip with perhaps a few polished facets. We do not have the weight of these diamonds which is normal in our trade when it comes to senailles. The rose cuts are set on foil. This is a special technique that was used to bring the lustre of the diamonds to its best quality.
Dimensions: height 6,10 cm (2,40 inch)
Weight: 6,70 gram
Video: https://www.youtube.com/watch?v=D2ENp9L5xJU
The jewel comes with the certificate of authenticity.
Ref.15267-0116
Extra information: This type of pendant is the lower part of a typical Belgian, late 18th till mid-19th century, pendant. They are called 'à la Jeannette'. A croix à la Jeanette (French for: "cross in the style of Jeanette") is a pendant in the form of a heart with a latin cross dangling from it.
See our 19th century Jewelry https://ift.tt/2HwoC1w
See our Yellow Gold Jewelry https://ift.tt/2Oexsl4
This is a piece of antique jewelry, 100 years or older, there will be no taxes or customs duties.